7 big stocks cruising for a bruising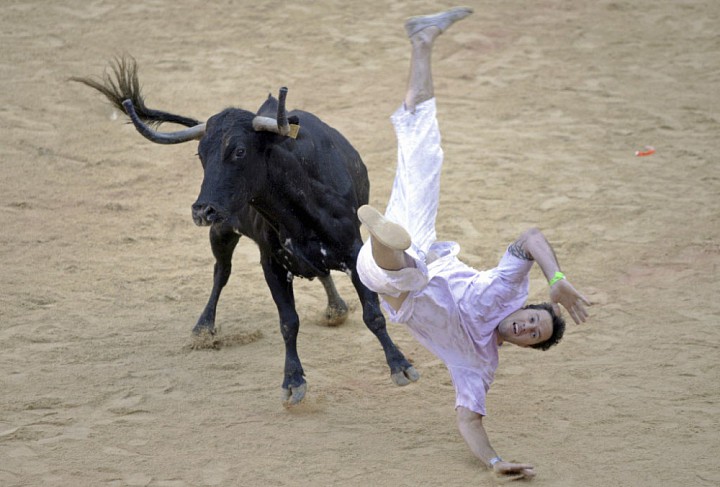 Investors are holding on to the rally for dear life – but they're halfway expecting the whole thing to buck them off any moment. If there's a group of stocks pros are warning will make investors black-and-blue – it's these.
There are seven stocks in the Standard & Poor's 500, including tractor maker Deere (DE), food processor Campbell Soup (CPB) and cereal maker General Mills (GIS) that analysts see as being most likely to be cruising for a bruising, according to a USA TODAY analysis of data from S&P Capital IQ. These stocks are rated "sell" or "strong sell" by S&P Capital IQ analysts and "hold" or lower by Wall Street analysts who also expect the shares to be worth less in 18 months than they are now. Remember, "hold" on Wall Street often really means "sell."
Interestingly, despite the warnings from analysts about these stocks, they're still cruising higher – or at least – not showing signs of bruising, yet. A custom equal-weighted index of the seven stocks is up 4.1% this year – easily four times greater than the 1.1% gain by the S&P 500 during the same period. All but one of the stocks, utility Consolidated Edison (ED) are up this year so far.

Chart source: S&P Capital IQ
Investors are starting to show their nervousness about stocks. The 328-point intraday swing of the Dow Jones Industrial average Tuesday shows just how nervous investors are. There's Greece to worry about, but investors are even more jittery over the stock market implosion in China and economic worries in the Asian nation. Investors – fearful to see their bull market gains vanish – stand ready to bail out on stocks.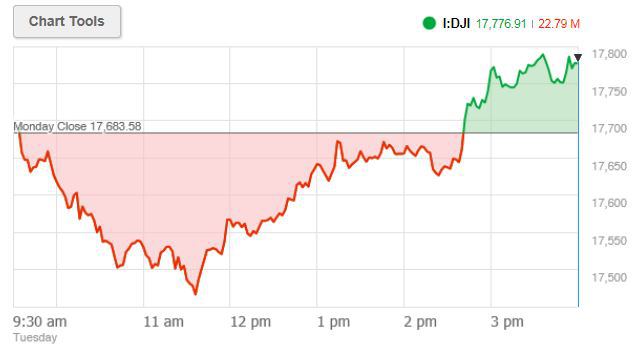 There's another reason to worry now. Mostly due to plummeting energy profits, analysts are calling for second-quarter profit to fall more than 4%, making it potentially the worst showing since 2009.
The stock analysts are most pessimistic about is Deere. S&P Capital IQ gives the stock a "Strong Sell" rating – which it reserves for just four companies in the S&P 500. But above that, the average analyst rates the stock a "hold" and is calling for the stock to be worth $88 a share over the next 18 months. The problem is the stock closed Tuesday at $96.28 – indicating 8.6% downside. If analysts are correct, the expected decline would more than erase the stock's 8.8% gain this year so far.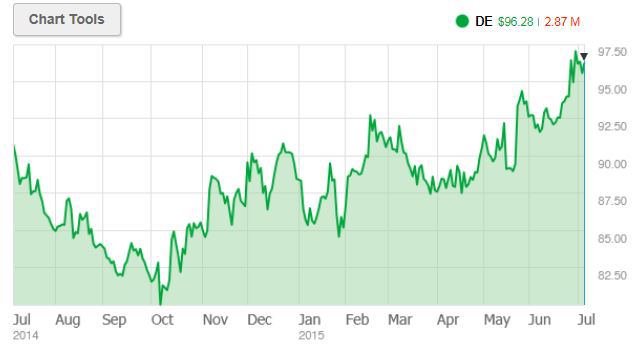 And then there's Campbell Soup, which is struggling to find a way to match the tastes of Chipotle-chomping Millennials. The soup maker is rated a "sell" by S&P Capital IQ and Wall Street rates the stock a "hold." It's a stock that analysts on average say will be worth $45 a share in 18 months, which is 6.2% lower than Tuesday's close of $47.98. If correct, the decline could be a shocker for investors – who are up 9% on the stock already this year.
It's certainly possible the analysts are overly concerned about these stocks. And who knows – the market could sail right through all the concerns about China and Greece.
But if not – if you're riding these stocks – you'll at least know where the bruise came from.
S&P 500 WITH LOWEST RATINGS FROM ANALYSTS AND EXPECTED TO FALL MOST OVER NEXT 18 MONTHS
| | | | | |
| --- | --- | --- | --- | --- |
| Company | Symbol | STARS rating | Avg. rating | Downside to target * |
| Deere | DE | Strong sell | Hold | -8.6% |
| Campbell Soup | CPB | Sell | Hold | -6.2% |
| Cincinnati Fin'l | CINF | Sell | Hold | -4.4% |
| General Mills | GIS | Sell | Hold | -3% |
| Paychex | PAYX | Sell | Hold | -2.2% |
| Consolidated Edison | ED | Sell | Hold | -1.3% |
| Clorox | CLX | Strong sell | Hold | -1% |
Sources: S&P Capital IQ, USA TODAY research